Related News
Boosting innovation with neutrons
SINE2020's Industry Consultancy programme demonstrates the potential of neutron technology to European companies. As part of its drive to encourage industrial users to exploit the unique properties of neutron beams for R&D, SINE2020 can arrange for test measurements and feasibility studies to be performed free of charge at European neutron research facilities.
SINE2020 Industry, 30/03/2017
Until now, SINE2020 launched two calls for applications. In these calls, 17 companies expressed their interest in the programme by applying online via the project's website . The applicants came from different industrial sectors, mostly from engineering and metallurgy, followed by the energy sector (Figure 1). Other requests came from the field of electronics, chemistry and biotechnology. Eleven companies were granted free feasibility studies which have now been finished or will be in the coming months.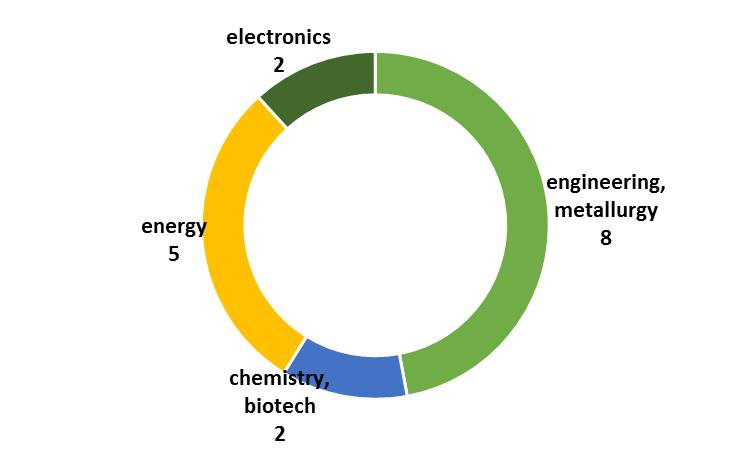 Figure 1: Classification of the 17 applications received per industrial sectors.
The most popular techniques to address the requests (s. Figure 2) were residual stress and imaging/tomography. Other problems needed to be addressed by small angle neutron scattering (SANS) or elemental trace analysis.
But what did the companies actually ask for? Let us have a look on two of the companies who took advantage of the SINE2020 programme.
Small Angle Neutron Scattering (SANS) for Stepan Europe

Being one of the world's largest producers of surfactants worldwide, Stepan provides surfactants expertise for commercial and industrial applications – ranging from foaming agents for shampoo to emulsifiers for agricultural insecticides or agents for oil recovery.
In the need of validating hypotheses developed on the microstructure of surfactants, Stepan contacted SINE2020, since their questions could not all be answered using standard laboratory techniques. SINE2020 experts therefore recommended to use small-angle neutron scattering (SANS) on an instrument at the Institut Laue-Langevin (ILL) in France.
SANS can reveal the average size and distribution of particles. It also provides information on shape and chemical structure (from about 1 nm to 1 μm).
Elodie Shaw, technical manager of Stepan Europe, says "The SANS measurements gave us indications on the self-assembly structure of our surfactants. We were able to distinguish between different structures, findings which challenged our knowledge to date. The time spent with the ILL scientist was invaluable.
Without the SINE2020 programme, we would probably not have approached the ILL for experiments, not being aware of the technique."
Neutron tomography on electrolysis cells from Haldor Topsøe

The Danish company Haldor Topsøe is a world leader in the development and manufacture of catalysts and the design of process plants for the chemical and petrochemical industries. Haldor Topsøe is currently developing solid oxide electrolysis cells (SOECs) for the production of hydrogen and synthesis gas. Part of its research focuses on the contact points between the layers of a commercial electrolysis stack. Therefore, the interior of the stack needs to be inspected in a non-destructive manner. Neutron imaging is the most appropriate technique when it comes to penetrating centimeters of metal whilst maintaining sensitivity to hydrogenated materials (such as polymers, for example). Haldor Topsøe chose to perform neutron radiography and tomography investigations at the Maier-Leibnitz Zentrum in Germany. Their researchers were able to identify hitherto unknown features within the stack.
Christoffer Tyrsted, Research Scientist, Haldor Topsøe, states "All the way through we received good and competent feedback from the parties. […] The experiments revealed interesting features we had not considered before seeing the data obtained."
Open Call NOW
Until spring 2019, SINE2020 will be open for further applications. Next call is opening NOW!
The SINE2020 programme will present itself on various trade fairs and conferences and will organise workshops in several countries. Also, the project is always looking for new partners like innovation clusters or regional development agencies who are interested in hosting a workshop or information event together with the SINE2020 Industry Consultancy people.
On March 8-9 in 2018, SINE2020 will host an own event in Amsterdam to bring together scientists from the facilities and European industry to discuss the numerous possibilities with neutrons and pave the way for further cooperation between these two worlds.
The SINE2020 website will be regularly updated with information about event participation and news from the project. Feel free to contact us at industry@sine2020.eu if you have any questions. To submit a proposal, click here .