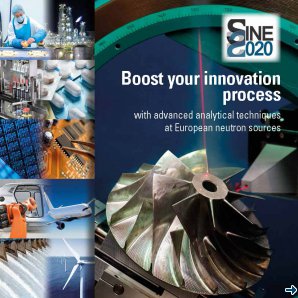 Neutrons for Industry
Groundbreaking R&D opportunities for industry
Coordinator: Marc Thiry (HZG)
Partners: HZG, ILL, HZB, TUD, ISIS, LLB, MTA EK, NPI, TUM
Our latest events:
Zaragoza, Spain 28th-29th March 2019
Lyon, France 1st April 2019
Videos and animations on Neutron Depth Profiling, Residual Stress and SANS techniques.
SINE2020's Industry Consultancy programme demonstrates the potential of neutron technology to companies not yet familiar with neutron analytical techniques. As part of its drive to encourage industrial users to exploit the unique properties of neutron beams for R&D, SINE2020 can arrange for test measurements and feasibility studies to be performed free of charge for European companies. You can also read our article on the aims of SINE2020 and Industry here
For further information on what we have to offer and on the application process go to the offer section .
For examples of industrial materials investigated with neutrons, please go to our Case Studies page .
The offer:
Rapid access: Fast-stream processing for industrial applications, optimising result lead times.
Expert Consultancy: Industrial R&D professionals in collaboration with experienced specialists from European neutron centres.
Easy-to-understand results: The local experts will provide data analysis and a report tailored to the customer's needs.
Confidentiality guaranteed: Activity covered by non-disclosure agreements. Only company name and measurement type to be published.
Flexible Services: In many cases  industrial processes and conditions can be re-created in the test laboratory. Final data analysis and reporting are provided.
Information, Training and Access
The SINE2020's Industry Consultancy initiative is working to provide you with:
Information and Outreach: ensuring that Industry remains fully informed of the latest neutron characterisation techniques via a European-scale information network. List of events .
Education and Training: providing industrial researchers with sophisticated skills in the application of neutron-based techniques.
Access: structured direct access to Europe's foremost neutron centres, through payment-free test measurements and feasibility studies; this includes technical support at the data-processing stage and tailoring the business model for continued future use (access, IP, regional legislation…).