Hungary: Introductory Neutron Schools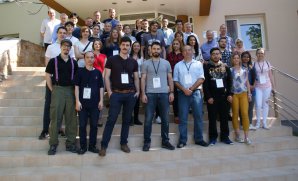 Based at the Budapest Neutron Center (part of SINE2020 partner MTA EK) in Hungary, Adél Len has been responsible for co-ordinating the Introductory Neutron Schools for the SINE2020 project. In this category, 24 Schools have been financially supported by SINE2020, with an emphasis on hands-on techniques and suitability for newcomers to the field of neutron science. They have trained over 1000 students and been supported by SINE2020 to the value of 94 000 Euros.
Along with the Advanced and Specialised Schools, co-ordinated by France, SINE2020 supported Schools have to be delivered at least partly in English and be international. The teaching material for every course is also openly available on the online learning platform e-neutrons.org afterwards. During the last three years, two Calls for Proposals for SINE2020 supported Schools have been launched. SINE2020 support offers 50% of the budget of the School (up to a maximum of 10 000 Euros). The proposals were reviewed by a panel of experts.
By training a community of future users, these Schools are supporting the efficient use of instruments based at the upcoming ESS from day one.
Below you can read about CETS, an introductory neutron school regularly held at the Budapest Neutron Centre in Hungary and run by its staff. A full list of all Schools supported by SINE2020 can also be found under Training on the SINE2020 website.
Case Study: CETS
SINE2020 Support in 2016, 2017, 2018 & 2019
Held annually in May, the Central European Training School on Neutron Techniques (CETS) provides insight into neutron scattering techniques and their application for studies on structure and dynamics of condensed matter. The objective of the school is to provide an insight into different neutron techniques: neutron scattering, imaging and elemental analysis, both at the level of tutorials as well as hands-on training. Training consists of 5 days of lectures (14 hours), experimental work (15 hours) and poster and e-learning presentations.
The practical work is conducted by the local instrument scientists; for example on wide angle and small angle diffraction instruments, reflectometer, prompt gamma and neutron activation analysis stations and the neutron imaging facility. Participants then have the opportunity to have useful discussions with the scientists.
Each year, about 25 participants attend lectures giving an introduction on neutron sources, neutron scattering techniques and recent developments in the field of neutron optics while experiments follow the full process of using instruments at a large-scale facility: sample preparation, experiment planning and running, data processing and interpretation of results.
You can read a report about CETS 2016 here.

CETS 2018 lectures

CETS 2018 hands-on experiments

CETS 2018 hands-on experiments

CETS 2018 hands-on experiments
Acknowledgements: Adél Len, BNC