SYNERGI2018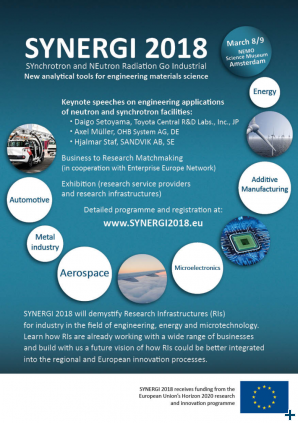 SYNERGI2018 event hosted by SINE2020
Europe has the best portfolio of Advanced Research Infrastructures (ARIs) worldwide, serving a wide and dynamic academic community of many tens of thousands of scientists every year. These large-scale and unique, but still exotic, facilities enable remarkable insights into materials of all types, particularly in engineering materials science. The research infrastructures are open not only for fundamental science, but are increasingly becoming a routine tool exploited for proprietary research by companies.
SYNERGI2018 aimed to demystify Analytical Research Infrastructures for industry, demonstrating how they already help companies with focus on the engineering and materials science sector, and discussed a future vision and expectation on how they should be better integrated into regional and European-wide innovation processes.
In a business-to-research matchmaking session, industrial researchers were brought together with facility scientists to discuss actual R&D problems and how they could eventually be solved using the special techniques provided at Europe's ARIs.
68 participants from large scale facilities, universities and industry took part in SYNERGI 2018.
The programme included:
Daigo Setoyama, Toyota Central R&D labs Inc., JP:Quantum beams accelerate R&D of automotive industry
Hjalmar Staf,

SANDVIK

AB, SE:Improving cutting tools with insights from neutron tomography
Axel Müller,

OHB

System AG, DE:Through thickness non-destructive residual stress-mapping on
friction stir welds for the space industry
Martin Müller, Helmholtz-Zentrum Geesthacht/GEMS:The European Landscape of Photon and Neutron Sources
The projects behind

SYNERGI

2018:

CALIPSO

plus, SINE2020, BalticTRAM,

NFFA

,

ACCELERATE

,

LINX

Small break0out groups on Additive Manufacturing, Automotive, Metal and Aerospace industries.
The event sparked lively discussions about the needs of industry and the difficulties industrial researchers face when using ARIs.
Detailed information and registration form were available at: www.synergi2018.eu.