UK: Deuterated surfactants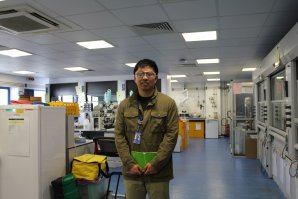 Kun Ma in his lab at ISIS Neutron and Muon Source, UK
Peixun Li has been responsible for the Chemical Deuteration facility at ISIS since 2014. For the last few years, SINE2020 has provided funding for a post-doctoral researcher to help ISIS produce deuterated starting materials for users beyond the UK.
This ISIS facility makes deuterated surfactants for neutron and muon techniques. Surfactants are useful for drug delivery, formulations, cosmetics and personal care products. They are also found in biological systems e.g. lipids. They come in all different shapes, lengths and sizes with different functional groups and characteristics, for example cationic, anionic and zwitterionic.
Part of SINE2020's Chemical Deuteration work package was to help ISIS provide a European-wide service so that European users can benefit from access to deuterated surfactants. Since the start of the project, the facility has received more than 20 proposals from European users during their biannual open proposal calls. After assessments by a panel of internal and external members, a decision is made on which ones can be supported based on the feasibility and difficulty of making the requested surfactant.
The Synthesis
Once Kun Ma, the post-doc in question, has been given a surfactant molecule to make, the first thing he does is search the literature for possible methods of synthesis. Sometimes he has had to go back as far as 1966 to find what he needs. He then starts by checking or developing the synthesis route using protonated versions.
Then, where possible, the hydrogen atoms in these molecules are directly exchanged with deuterium. If this does not work, Kun may try following the same synthesis route using deuterated reagents or identify the easiest step for introducing the D atoms via smaller deuterated molecules or solvents. However, sometimes the route to make C-H bonds can be very different for C-D bonds, in which case alternative step-wise routes have to be explored. Some synthesis routes have involved more than 16 steps!
The amount of time it takes to make the required deuterated molecule can take anything from a couple of weeks for simple molecules to over 6 months when you get a particularly troublesome one. Once a deuterated molecule has been made for the user, however, the knowledge is also passed on to other possible users via journal publications.
The Future
As we reach the end of SINE2020, Kun Ma's contract has been made permanent. The SINE2020 collaboration, and in particular the DEUNET network, has also helped Peixun and Kun to forge strong links with other deuteration facilities to share complimentary knowledge and have a back-up of people they can trust to ask for help.
These experts could also help them to expand their service in the future, for example to be able to provide deuterated polymers or biological molecules. Working together with polymer experts in Germany for SINE2020 has already made it possible for them to learn important skills in this area and obtain starting materials too.
Acknowledgements: Peixun Li, ISIS